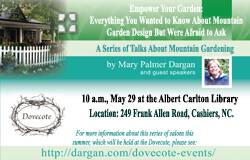 Tomorrow -join Mary Palmer Dargan, landscape architect and garden design author, for a talk on "Empowered Gardens: Everything You Wanted to Know About Mountain Garden Design But Were Afraid to Ask"  at 10 a.m. at the Albert Carlton Library in Cashiers. FREE.
For reservations, please call 828-743-0307.  The library is located at 249 Frank Allen Rd., Cashiers, NC 28717.
The salon kicks off a series of garden talks at Dovecote every Thursday morning at 10 a.m.
See https://dargan.com/dovecote-events/ for the schedule and more details!