Our new fairy ga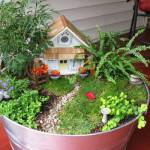 rdens were debuted at a recent garden show in the Buckhead neighborhood of Atlanta – and we got an enthusiastic response!
I never played with dolls as a child, but this gardening genre resonates with me. We tried four different miniature garden models  – and will be creating more of these little beauties in the future.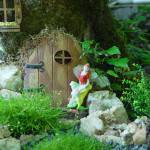 Who can love a fairy garden? I see clients with family members who love to garden, but are of limited mobility. Or, brilliant children who naturally create environments when given the right tools to organize spaces. Garden in a container filled with an imaginary landscape? Complete with a house, chairs, path, pets …you name it! Fairy gardens entertain and take us out of ourselves into a benign world.
 So watch for the announcement of my website page for these precious building materials in the near future!