Take a day trip to Cashiers, NC this summer – and enjoy the cool, lovely mountain beauty of the southwestern North Carolina region.
Once in Cashiers, visit us at the Dovecote Garden & Porch Delights. Visitors are welcome to wonder around the gardens and sit on the porch for a spell. If you have any gardening questions, talk to the staff or proprietors Hugh and Mary Palmer Dargen, who are longtime NC landscape architects.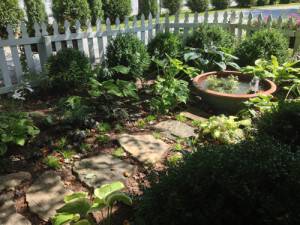 The address for Dovecoat is:

35 Flash Point Drive, Cashiers, NC 28717 (next to Cornucopia Restaurant)

Starting in June, Dovecote will have weekly complimentary courses on Thursdays at 10 a.m. about garden design topics.
 A North Carolina Roadtrip – and the Arts
 Schedule your road trip through The Highlands in midJuly and stop by Cashiers for the Cashiers Plein Air Festival. The biennial event is held to raise funds to enhance The Village Green. During this week-long event, artists set up their easels in and around Cashiers to capture the landscape and lifestyle of the area.

 On July 18, the Dovecote will host an Artists Open House. Artists will be on hand to display their works and answer questions.
 Blue Ridge Mountain Day Trippers
Once in Cashiers, it's an easy stroll to the local restaurants. The Cornucopia Restaurant (next to the Dovecote garden center) is famous for its buttermilk pies. Or sample some Southern smoked meat at the Carolina Smokehouse. For local treats, stop by the Farmers Market, which is open from about Easter through Thanksgiving.
Thursdays at 10 am – Garden Talks
If you will be around on a Thursday morning, stop by the Dovecote for a lecture on gardening. We will be posting a series of events soon; check out our schedule at Dovecote events page.