A gorgeous French Chateau-style mansion was in need of new landscape design. The project meant a lot to us because of the famous architect associated with the mansion, located in the historic neighborhood of Atlanta.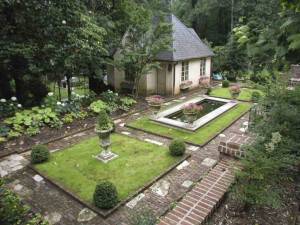 Our Atlanta landscape design firm was naturally excited to take on the delightful task of rebuilding the gardens for the Phil Walden estate in 2001. Hugh Dargen, principle of Dargen Landscape Architects, worked together with  Walden, who was the founder of Capricorn Records and an avid historic preservationist.
 We were particularly enthusiastic because this historic French chateau was designed by Neel Reid, a prominent architect who died at an early age in 1926. Before his passing, he left a series of beaux-arts mansions in the Atlanta area that reflected his deep love for European classical architecture.
Some of Atlanta's most recognizable landmark mansions were designed in the classical style and built in the early 20th century by the city's then-top architectural firms led by Neel Reid:  Hentz, Reid & Adler.
Historic Atlanta Gardens
 The owner believed that his gorgeous Atlanta mansion deserved to be encompassed by a landscape design that enhances and complements its design. As longtime Atlanta landscape design consultants, we were sensitive to the history associated with the Walden home and the Buckhead  neighborhood.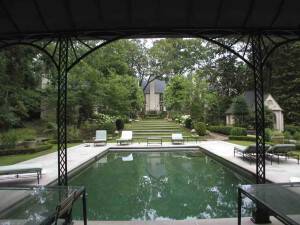 Our master landscape plan for this Atlanta treasure employed the principles of geometry to enhance the grand structure.  We'll be featuring more of this project in future blog entries. See more about the Walden home in our Houzz portfolio as well!