There are four main components to a timeless landscape design, one that speaks to us with unmistakable beauty for ages to come. The first piece of this puzzle is "the approach and arrival sequence." This is what we call the area between the street and the front door. When thoughtfully designed, it can provide a lasting first impression while setting the tone with curb appeal that expresses personality and sophisticated style.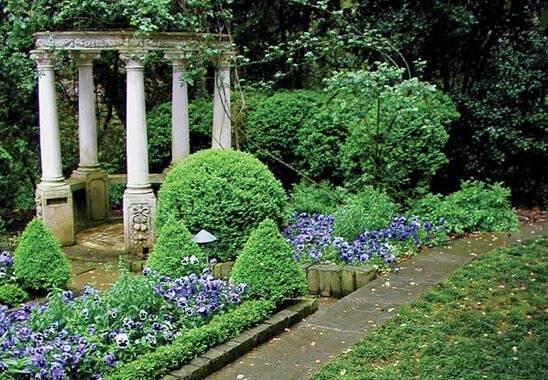 Whether it's a stately mansion, an expansive rural estate or a smaller urban property, the approach and arrival sequence should be designed to play on the human emotions. The aesthetic perspective of landscape forms and textures and the manner in which the driveway ribbons to the house should evoke anticipation, expectation and excitement. Landscapers, builders and architects have been creating these emotional experiences for centuries. Many nineteenth century English novels paint descriptive scenes of the emotions heroines felt while riding their carriages up a winding driveway and catching glimpses of grandeur estates amidst rolling hills, trees and shrubs.
Unfortunately, this area is not getting the design attention it deserves on many of today's residential sites. As many homeowners direct a great amount of time and energy into the outdoor living areas where they want to relax and entertain, the front yard and entryway can be left neglected. The drive portal and corridor, the parking court and the entry node may serve very practical functions, but this doesn't mean they should not be meticulously designed to create relationships between shapes, textures, colors and heights.
This area should be the quintessence of the perfect collaboration of owner, builder, architect and landscape architect. The ultimate goal should be to achieve a harmonious blending and balancing of elements in order to exude refined tastes and dignity.
Here at Dargan Landscape Architects, we create custom designs that tell stories and express the personal style of our clients while letting nature speak. When every design element is approached with precision and care and imbued with purpose, the landscape becomes a beautiful experience for us and a healer for the earth.