Well I am so grateful for assistance in building this exhibit. It is only 10 x 10 and considered to be a pocket garden, but geeeeez, is it persnickety! Of course, we will be adding things up to the last minute…everyone  does! We have plants coming from Goodness Grows, Cut Flower Wholesale, Steve Miller's Kingsville Boxwood edging, Pike and Saul's color, our Highcote, Jenks Farmer's crinums, Atlanta Water Gardens…and the woods!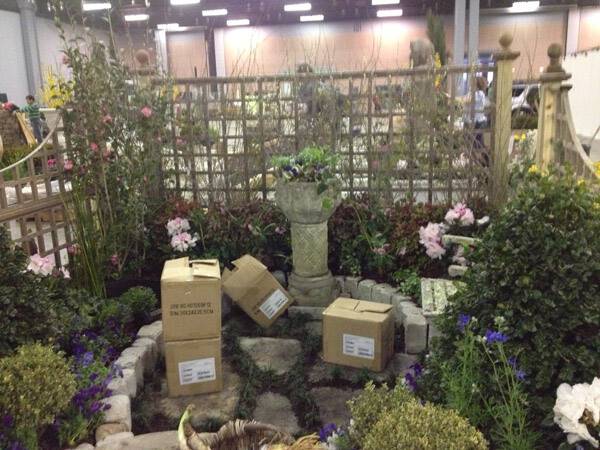 Pat Boak is helping with invaluable installation of show perimeter boards, installation of mulch, backdrop and more. Thx pal! The following list is just something I found useful for keeping it all straight…
Dargan Plant List and Supplies
Bulbs
Muscari sp grape hyacinth (Cut Flower: bulbs in pots)
Narcissus  – Daffodils (HH-H&MP harvest & pot up)
Crinum americanum (Jenks Farmer- loose bulbs in basket w/ trowel and labels, booklet)- Crinum lily
Vines
Gelsemium sempervirens (maybe)- Carolina Jessamine
Clematis armandii (Saul's)- Evergreen Clematis or Armand's Clematis
Ground Covers
Native moss(HH- MP harvest fresh if possible- is sheet moss allowed?)
Ophiopogon japonicus (GG or Sauls, Pike?)- Mondo Grass
Shrubs
Spiraea prunifolia (Goodness Grows, force in Lynn C's sunroom)- Bridalwreath
Camellia japonica sp (Pikes or Habersham)
Edgeworthia chrysantha (maybe- GG)- Oriental Paper Bush
Aspidistra elatior variegata ( maybe-PIke)- Cast Iron Plant
Fatsia japonica ( maybe-Pike)- Japanese Aralia
Edging Material
Buxus sempervirens 'Kingsville' Boxwoods (HH-MP/H or Steve Miller)
Buxus sempervirens variegata  Variegated Boxwoods (HH-MP/H)
Buxus sempervirens Boxwoods (Steve Miller-need to be rounded nicely)
Ephemeral Color
Lobeila erinus – trailing blue lobelia (50 4″ Pike)
Viola sp blue mixed colors (Pike)
Delphinium sp (Pike)
scabiosa (Pike & Sauls)
Pansies (yellow,orange, white gallons-Sauls)
Ornamental kale (Pike or Sauls)
Small Pond Plants
Iris pseudoacorus variegata ( Atl Water Gardens)- Variegated Yellow Flag Iris
Fuzzy stuff on surface?
Cut Trees for Background
May we use top of cedar trees like PHS does??- yes
5 senses:
Color
(see plants above)
Sound
Windchime
Small bubble in pond
Texture
Stepping stones in moss, ophiopogon with muscari mixed with blue lobelia
Need something like fatsia or aspidistra
Maybe ornamental kale
Fragrance
Clematis armandii
Other plants above
Taste
Violas
Maybe ornamental kale
Site Appurtenances
Weathered backdrop fencing painted a watery blue green ( leave natural?) 3 sides partial
Pond Gold fish? (MP maybe)
Stepping stones ( PAT BOAK)
Half moon step stone stabilized on cobble base ( PAT BOAK)
3″ interior raised border of granite cobbles ( PAT BOAK)
Board perimeter 12″ tall painted gray sim to cobble ( PAT BOAK)
One band of cobble of ground outside board adds 6″ perimeter around exhibit (PAT BOAK)
Lichen side chair (here)
Beautiful antique urn (here)
Small pond basin with moss around it (here)
A good book, coffee cup on side table or on stone to side (how to display?- on large stone?)
Mulch for interior of exhibit
Natural leaves (HH-H/MP)
Candle light torcheres (no wiring) , candlesticks, globes (or one atmospheric one on treillage)
Electrical  (Show committee)  one duplex outlet only
Pump (very small for fountain)
Outlet  computer
Display Boards
Black board (Curt/Andrew to do)
Plant list (Lynn & MP)
Handouts/cards (MP)
Books (Eagle EYE supplement)
Music stand for display of materials
Chair/stool?? (2)
Storage container for our stuff…hide it where?
Plant labels (clothes pins and wire, hand printed-Lynn)
Book drawing materials, 3 books and jar for names!