We're celebrating 40 years in landscape design!  Join us for a special garden design event in Charleston, SC…Come take YOUR garden to school!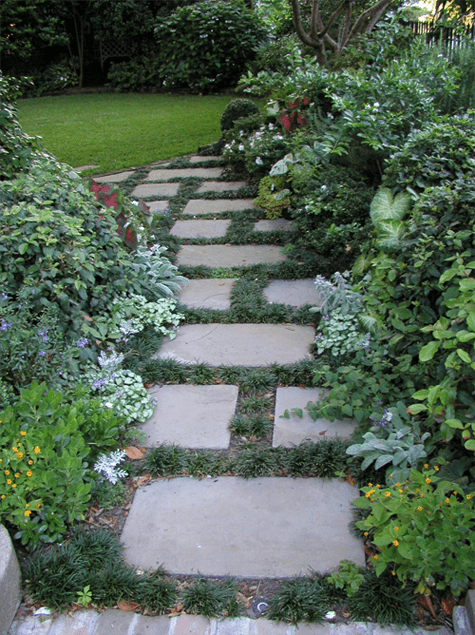 Wow. I didn't know the value of an outdoor room until a client called with a wedding emergency early in my career. In Charleston, SC, a 18th c single house built for a family of four, had a set of rooms downstairs for business. Today, a family of two might comfortably squeeze into its narrow, one-room footprint. The classic single house, usually has a two story piazza, or balcony running alongside its long, attenuated body, but this one was strictly all building.
So, where to put the guests? The exquisite 2 tiered cake with elegant sugar petal flowers was okay in the foyer, but the dancing and merriment needed more elbow room.
Hugh and I eyed a  small garden patch, 18 x 15′ = approx 270 sq, ripe with potential. It was wildly overgrown with bushy breath of spring (Lonicera fragrantissima) occupying half the space. A hidden birdbath buried 6′ into its interior indicated this once was a small garden.
The rest of the patch was an L shape and surrounded by a tall, brick wall of mellow old brick and obscured by fig and ivy. We love fig vine for its greening effect, but this one now had knobby vines 2″ stems from decades of build-up.  Another foot of space gleaned form garden maintenance archaeology was ours!
Ragged indica azaleas and a very spindly, loquat with very messy fruit, occupied the rest of the space.
Spring cleaning came first. Once the onion was pealed, how to design for maximum use and beauty after the party was over? A circle space, outlined with a brick sailor edge, 12′ in diameter sodded with grass, created a tippy-toe spot for a garden tent with musicians. The dancing worked its way out to the parking court and the pathways.  A new courtyard garden where there was none, and now a PLACE to be.
3o years later, guess what is has become…a children's play area, paved and ready for the next party!
The allure of the courtyard and outdoor rooms brings Charleston, SC immediately to mind.  Join us February 25-27, 2013 as we share the recipes for these timeless outdoor rooms.
In honor of Dargan Landscape Architects 40th Anniversary in 2013, Elements of Outdoor Rooms, harkens to our early design practice in Charleston, SC. Full time for decades and continuing on today, we've tested art elements & client needs on the canvas of this historic city. Dargan archives at the South Carolina Historical Society house hundreds of our courtyard and outdoor room designs, many of which exist today and hold lifestyle tools useful to properties anywhere.