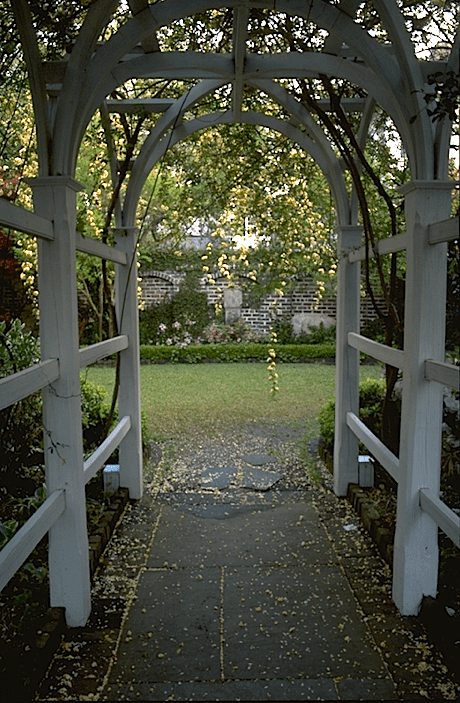 We're celebrating 40 years in landscape design!  Join us for a special garden design event in Charleston, SC…Come take YOUR garden to school!
Can a garden be a work of art? Most definitely, and it does not take sculpture or even hardscape.
The skillful use of art elements and design principles are what skilled artists and designers use to create a picture of lasting value.
The most important ingredients of a powerful landscape are usually not plants, flowers, buildings or trees. The key to success lies in the basic tools of visual art: the four art elements (line, color, form and texture) and the broader principles of design, such as proportion, scale and focalization. All gardens that have stood the test of time convey the power these tools hold over the human imagination. Crafting a four-part master plan depends on their skillful application—a lifelong pursuit. The following is a small taste of what these tools are and how they work on the land. Meet The 4 Art Elements!
1. Lines and Paths. Line commands power in landscape design because it not only gives form but also creates mood. Arrow-straight lines for pathways are purposeful; they propel you along with direct momentum. Curved paths relax the pace. On large properties, long, curving paths with tall shrubs and border plantings orchestrate the discovery of something hidden around the bend.
Hedges are lines; pleached allees of trees are lines; the curvy or straight raised edges of flower beds are lines. They all create energy in the landscape one way or another—through moving your eye or by moving your feet.
2) Color. Color is the most personal part of a landscape design. Freedom of color choice rules your flower beds and borders, so you can choose to be over the top one year and restrained the next. As a tip, keep color simple. This applies to the plant color green as well as to the more vivid floral spectrums.
The backbone of any garden is green—blue green, leaf green, red green, variegated green or grass green. Take your choice. By merging and mingling greens, a garden can be as cool as a cucumber and as exciting as a Monet. Winter greens are different from summer greens. Gardens with year-round interest have both evergreen and deciduous plants. This lends considerable interest to spring when infant leaves burst forth from the sleeping gray branches.
A floral display that includes a palette ranging from dark to light will interest the eye. In a flower bed, you might try a dark blue theme with light blue, lavender and some pink for contrast, then add a dollop of pale yellow or white to release the colors and make the bed shimmer and twinkle. Successful beds showcase different hues that blend in with one another rather than stand out against each other. Try not to use independent wads of color such as tight clumps of bright begonias; instead, blend colors to luminously fade into one another like a watercolor.
3) Form. Form means shape. Be it a rug of lawn or an upright conifer, the skillful use of form is a path to stylistic success in gardens, especially small spaces. Every element in a landscape has a form. Distinctive forms, such as Italian cypresses, have stylistic reasons for being in gardens and evoke the flavor of Italy. The contours of a shapely lawn, the graceful outline of a large stone urn, or tall boxwoods clipped into whimsical bird-like topiaries demonstrate the variable art element of form.
Plant materials offer you choices in forms that include horizontal, vertical, loose (billowing), tight (compact), weeping, upright, pyramidal, clasping, curving, linear, asymmetrical and symmetrical.
Cemeteries often showcase forms that are elongated (e.g., tall conifers) and have an inspirational or serene effect. They lead your eye skyward. Wider forms, such as low, clipped boxwood hedges, bring you back to earth and emphasize the ground plane. Irregular forms, such as Deodar cedar, are picturesque. Your eye sees the irregular voids between the branches.
4. Texture. Understanding texture is akin to pouring soy milk into a bowl of granola. At first glance, it is a pebbly surface full of interest; the next moment it is a broad expanse of flatness with an occasional iceberg.
Textures in the landscape represent the symbiotic relationship between plant leaf sizes, the size of the space in which they are placed and any adjacent paving textures.
In plant materials, there are three basic textural categories: large, medium and fine. Large-leaved plants, such as fatsia, banana trees, palmettos, magnolias, hydrangeas and hostas, are considered coarse. Fine textures are seen in grasses (especially zoysia) and plants with dainty leaves, such as creeping fig vine, small leaf hollies and small ferns. Medium textures would be exhibited by camellia, azalea indica, ivy and cherry laurel. Some plants may have a specific texture but read more as shape. Boxwood is considered to have fine texture, but that is usually not as important as its form when used in a design.
Textures play a major role in all of the built elements in a garden, be it stone or brick. A path made out of a single smooth surface and hue, such as square limestone paving stones with closely mortared joints, creates momentum; this effect is doubled when the path follows a straight line. On the other hand, a heavier, coarser texture, such as bricks laid in a basket-weave pattern, slow it down. Using the heavier texture on a curved path definitely puts on the brakes and seems to invite relaxation.
Keeping the textures of building materials and plant materials in the same general family defines the character of a property. Skillful use of texture is one of the most powerful elements you have for creating a spirit of place. Each building material and individual plant has its own expressive surface. For example, the coarse texture of weathered cedar used on fences and gates in a mountain retreat differs from a town courtyard garden where a smoother texture of painted ironwork, stucco or wood would be more appropriate.
Next TIP #3 : Design Principles to Enliven : Outdoor Room #3
Join us in Charleston, February 25-27, 2013 as we share the recipes for these timeless outdoor rooms.
In honor of Dargan Landscape Architects 40th Anniversary in 2013, Elements of Outdoor Rooms, harkens to our early design practice in Charleston, SC. Full time for decades and continuing on today, we've tested art elements & client needs on the canvas of this historic city. Dargan archives at the South Carolina Historical Society house hundreds of our courtyard and outdoor room designs, many of which exist today and hold lifestyle tools useful to properties anywhere.