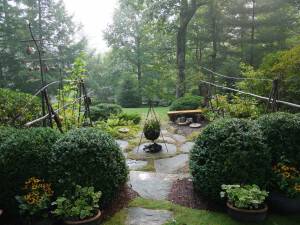 Bring your Pickin' Basket to the The Pioneer Garden
Kentucky Wonder Pole Beans  live up to their name! Planted in early June, they climbed the beanstalks and set 8″ pods by mid August. The kale, swiss chard, garlic chives and other useful herbs and vegetables survived attacks by crows and rabbits to flourish in the millstone garden. The birdhouse gourd tree makes a quaint statement…no occupants yet!
Mary Palmer Dargan, asla put together antibellum gypsy kettles as planters, and antique gardening tools plus a collection of rustic furniture. Hugh Dargan suggested grasses planted in the caldron kettle to mimic smoke.
The Cashiers Designer Showhouse benefits Cashiers Historical Society and is a "must visit" for both home and garden. Reflections, the historic log cabin home overlooks a scenic lake and reached along an atmospheric, mountain road. It is open until Sept 4.
For more information contact http://www.cashiershistoricalsociety.org/ or call 828-743-7710