In Augusta, GA, Hugh and Mary Palmer Dargan, ASLAs, present a timeless masterpiece, the gardens of Dr. & Mrs. Charles Falcone on Walton Way in Augusta, GA. The house is a classic southern columned cottage set on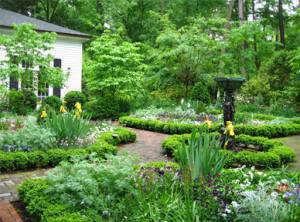 many acres with 5 distinct garden areas, all designed by Hugh Dargan.
The Camellia Garden contains over 40 species of camellias, the Asian Garden is a wonderful collection of hostas and exotics that grow well in our environment, the Formal Garden is at its peak featuring foxgloves and dianthus, delphiniums and bachelor buttons in a classic four-part plan, The Magnolia Allee has fine shade loving plants and the Woodland Walks are a splendid respite!