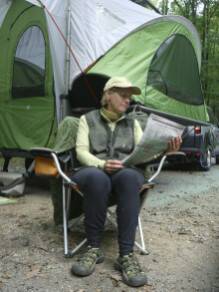 On Friday, as we set up our Sylvan Sport GO mobile adventure gear, a large tribe of turkeys snacked in the underbrush between campsites. Perfect weather, an empty campground, miles of trails to walk with pristine mountain streams rife with trout and only an hour's drive from Cashiers. What better formula for an outing close to home?
It got even better! The Mountain Life Day, held on September 20 at Oconaluftee Visitor Center in the Mountain Farm Museum Complex located in the Great Smoky Mountains National Park, took us completely by surprise. Here gentlefolk in historic garb were making provisions from scratch the old-fashioned way. Applesauce from hand-peeled apples was heated to a furious bubble in a black kettle, fired by hickory wood and stirred with a long wooden spathe.  Yummy samples were in hot demand.
Raw cane syrup, a pale green color, crushed by mules on a circular tether between two stones, was poured into a set of copper toughs fired to an intense heat to dehydrate and thicken the sweet molasses. A soap maker shared his technique for adding lye created from soaked ash into lard drawn from livestock fat to make soap. The doll maker created exquisite toys fashioned from simple cornhusks and silks. Generational rocking chair makers joined growers of over 300 antique apple varieties and examples of wild crafted home remedies for arthritis and colds.
The Oconoluftee Visitor Center is in high gear as a $ 2.5 million new building complex is being erected to house audiovisual and interpretive exhibits by the  spring 2011. The old visitor center will be retained as a research and teaching facility.
Smokemont Campground is just a stones throw from Oconoluftee. We parked our adventure gear in a shady campsite, put on our boots and set out on a beautiful 4 mile hike adjacent several streams on a gently graded path. Two trout fishermen worked the banks and shared their success with landing rainbow, brook and brown trout.  Further upstream, we dipped our rods into the waters seeking the elusive trout, finding our efforts unrewarded, but the scenery well worth the effort!
Since our marriage 26 years ago, Hugh and I enjoyed backpacking mountains and lowlands in beautiful areas. We are not car campers, or "front country users", in the parlance of the national park brochure. However, anyone who knows me, knows I am a gear junkie.
The recent arrival of the Sylvan Sport GO on the market hit gear management on the head. Made locally at Cedar Mountain, NC, the GO is a camping innovation. It is a convertible wheeled apparatus made to haul 800 lbs of kayak, bicycles, small ponies and a built-in tent behind a 4 cylinder vehicle.  It is "heaven on toast points" for anyone needing a small trailer for light duty projects, plus has a wonderful, spacious sleeping tent that parachutes out from the clever roof storage providing for a family of four.
Our trip was easy, inexpensive at $20 a night for a camping spot, and we could enjoy painting, hiking, fishing, bicycling, dining and sleeping with all our gear easily accessed.  When our car gave up the ghost with electrical problems on Sunday's departure date, the helpful Smoky Mountain  National Park VIP volunteer rangers in their electric rescue vehicle, gave us a boost and a telephone. Sequohia tow company from Cherokee took both our CRV and the GO back to Cashiers.
After towing and car repairs, we didn't exactly save money or catch fish on the trip, but loved every minute of our outdoor adventure.
Getting there:
The Great Smoky Mountain National Park is  located on Hwy 441 adjacent Cherokee, NC.  www.nps.gov/grsm and is about 60-75 minutes from Cashiers. 1-865-436-1200.
The Oconoluftee Visitor Center is the entry point into the park. Smokemont Campground is the closest front campground to this entry.
Reservations  1-877-444-6777 or internet above.
Sylvan Sport GO
Photos:
1.     Gone Fishin'
2.     Hominy Makin'
3.     Cashiers resident, Hugh Dargan checks out broom corn
4.     Molasses makin'
5.     The author on the GO
6.     The GO at Smokemont