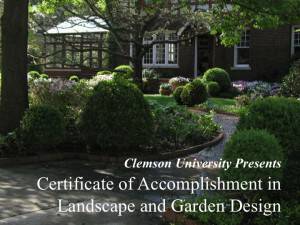 Valuable galleries from the musty halls of my teaching website are free for your landscape design edification! 4800 images from 40 slide shows with topics of landscape design, planting design, construction and landscape history are yours at www.dargan.com.
I am in a consolidation phase and am no longer teaching this exact material as a course, so wanted to share it with you. The course was enormously popular and critically acclaimed, produced graduates in several states. CCALD lasted until spring 2008, when Timeless Landscape Design: The Four Part Master Plan was published. Timeless represents the first 7 chapters of this course.
To wit:
Birth of a Landscape Design Certificate
My first blog entry :  Tues, May 23, 2003
How in the world can I condense an overview of a typical five year program in landscape architecture into a certificate course in landscape design that would be of lasting benefit to homeowners, builders, architects, garden center staff and landscape contractors? (
Since this is a blog, a web diary, let me first say that you are invited to witness a birth process! That topic is a pretty tall order…but ya' know, I think I can handle it and make it fun. I'll look at issues unique to personalized land expression and make a list of courses that will be immediately useful. Simple…HA!
My mission is to provide a spatial vocabulary that opens up the eyes of participants to a whole new way of looking at their world. Whew.
This process ought to put me back in the armchair of the layman as designer. A birth process. It is very easy after practicing as a landscape architect for over 20 years to forget how hard it is for the regular guy/gal to express "needs and wants, goals and dreams" in a cogent, effective and buildable fashion to others.
And, I really want to empower the regular guy/gal with the ability to create a perfectly fabulous home environment. lt takes a dose of classical training and practical input from the professor to begin to have the scales fall from a layman's eyes. That's the fun of it for me…to see the ah-ha experience of participants.
I have a hunch that the real benefit of this course will occur when it becomes a Distance Education item. Then the certificate candidate can hear my voice and see the photos. It is much richer with a narrative…perhaps going platinum in the world "how-to and why"?
As I write this, the pilot course is almost finished. 5 will graduate in mid-June of 2003. The camaraderie is phenomenal and that single thing so enriches my life. Everything is happening as I'd hoped, with a few surprises. For instance…3 of the grads are women who are married to, or are daughters of, doctors and each owns her own tractors (with attachments) received as a gift or as a necessity in order to personally express design ideas on their land….or to simply mow.
Other surprises.. I realized the .ppt images were so very valuable and impossible to retain unless captured as digitals or on paper.  (So…my adorable ex-pat, geek-guru younger brother, Christopher, graciously agreed to help post the lectures on the internet…I think this project is a hobby of his…Wow. That was big. Then I had to learn how to do it.
Chris provided the space and encouragement and it worked! Then it had to be secured. So I learned how to do that. Then I started the next embryonic course in Cashiers, NC that needed digital expression and intercommunication…  (This resulted in a 3 day charrette between Lachko, Chris and me (he is in Bulgaria) to set up the new site in time for the press review of the course in the Cashiers Crossroads Chronical and The Highlander. He is so modest…I wrote " You are a genius. It is beautiful and so elegantly sophisticated and friendly." He wrote back…" Naaaaw, the tools just keep getting better".
Ya' know, don't you just love him!  The other issue is promotion. Its one thing to create lots of wonderful courses consisting of six lectures each. It is entirely another thing to get this information to the public.
I hope the tom-toms keep beating, for within 3 weeks of getting approval from my Department Head at Clemson, Dan Nadenicek, to launch the course this spring, it was offered as a free seminar. We put up posters and were honored by Master Gardener e-mail being fowarded to the right people by Professor Mary Beverly Haque. Then it got a spot on public radio with "Speaking of Schools" that ran several times. And the Greenville Foothills Garden Club (GCA) invited me to do a quick announcement at their joint meeting.
Anyway, I am eternally grateful for all the support.   (This course is meeting a unique need. My current students, who range from 29 to mid-60 s are all so helpful and suggest ways to make the experience even richer. I just love them. They are Master Gardeners, landscape contractors, architects, real estate developers, laymen and garden center staff. A wonderful mix.
So now I have a blog. (10-15-10 My brother told me later that I was blogging before blogging was invented!)
It is a personal account of how an idea became a reality. It should an interesting ride.