Summer Lecture Series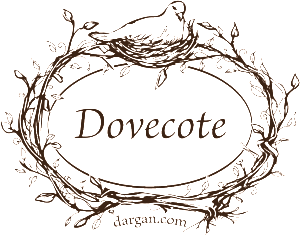 Thursdays at 10 in Dovecote's Garden
Unique in the Cashiers Highlands Plateau, this summer a series of informal soirees are being held regularly on Thursdays at 10 In Dovecote's Garden. This historic farmhouse, once nestled in the cornfields of Cashiers, is now ground zero for horticultural cognoscenti. The garden offices of landscape architects, Hugh and Mary Palmer Dargan, are located on McKinney Way (aka 35 Flash Point Lane) off Cashiers School Lane, 1 mile south of Crossroads on 107.
Enjoy a morning glass of herbal tea, stroll Dovecote's two public gardens and make friends with guest speakers. Watch for our weekly schedule of in The Highlander, Cashiers Chronicle and The Laurel.
If you have a house full of guests, would you enjoy "Miniature Gardens for all Ages",  or "Concocting Bitters for Summer Cocktails"? Have lunch at Cornucopia next door, then visit The Village Green and a garden center that afternoon.
How about big picture designs topics like "Making Flat Land on Mountain Slopes", "Dahlias for Mountain Gardens" or "Perennials for Your Bullet-Proof Border"? Native plant lovers, please join us for "Splendid Native Shrubs Trees to Know and Grow", plus "Mountain Hedges: Elegant Tapestries & Utilitarian Hideaways". We'll be field-tripping to local nurseries to uncover secret recipes.
For the home gardener, improve your home environment with "Permaculture for Mountain Landscapes", "Turbocharge your Soil with Compost & Compost Tea" or putter with us as we set seeds for "Vegetable Gardening with Vim and Vigor".
Most lectures are free; workshops materials have a small fee. For instance, join us for a pre-Mountains in Bloom gathering then migrate to Highlands wearing our new hats to a special champagne lecture.
Intrigued with sculpture and art in the garden? Carl Peverall places three of his atmospheric pieces at Dovecote this summer. Cashiers Plein Air Festival kicks off week of July 12. Watch early dawn artists catch the light at Dovecote and the surrounding village of cottages.
What makes the BEST of mountain gardens for you and Mother Nature? Come hear "My Magic Mix for Mountain Landscapes". Heal the earth, one garden at a time. Rest lightly on the land and always remember that form follows function…then beautify!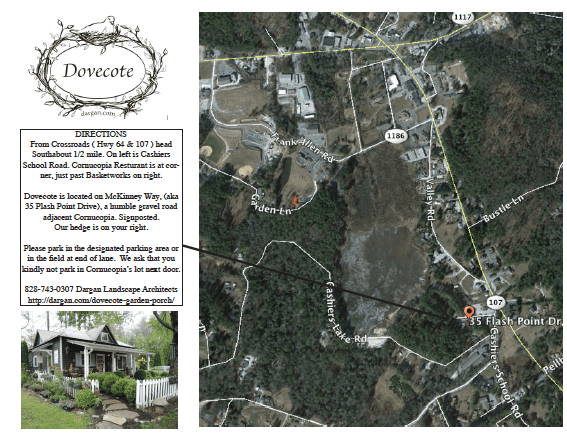 Cashiers map to Dovecote
(click on the map to download)
Schedule:
July 31 ~ Mary Palmer Dargan: Magic Mix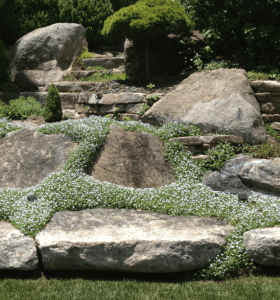 10 a.m., Thursday, July 31
Take Your Garden to School, by signing up for a special workshop with Mary Palmer Dargan, RLA, at Dovecote in Cashiers, NC at 10 a.m., on Thursday, July 31.
The workshop, "My Magic Mix" will run from 10 to 2 p.m. Meet at Dovecote for a tour of gardens with Mary Palmer, as well as a workshop that will talk about:
using art elements and design principles to improve our garden
creating a horizon: building terraces for parking and outdoor rooms
plant materials fo chic mountain landscapes
lighting, drainage, building materials, etc.
Bring your camera, notepad and be ready to take your garden to school! 
Meet at Dovecote to depart for very special tour of some amazing, private gardens in the Cashiers NC area in this mobile lunch and learn workshop. Join us for this garden design mini-course where I share my secrets. Pre-registration required. We will share cars.
The workshop is $97.

Aug 7 ~ Bob Dews: Inspired Waterfalls and Ponds for Your Home Environment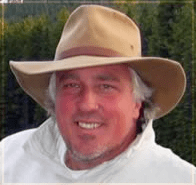 Thursday, 10 a.m. Aug. 7
Bob Dews is a master of water. Falling, spilling, cascading, dripping. He coaxes it to the highest heights, or subdues it into a still pond. He will discuss the secrets of his creations plus entertain us with anecdotal tales of waterfalls gone bonkers! Join us as we field trip to a nearby idyllic creation.
If you've not met Bob Dews, you are in for a treat!
He says: " Have you ever paused by a stream or pond and found yourself entranced by the sights and sounds of water? Let's face it, God created many things on this earth for our pleasure, but nothing beats the therapeutic qualities of water. The primary contribution to this pleasure is the overwhelming stimulation to the senses that water provides. Visually, we are stimulated by the reflections, ripples, splashes, and droplets. Acoustically, we hear the different rhythms and tones created by water. Finally, our curiosity is stirred by the plants and animals that live in and around water. Water is the essential element needed to sustain life; therefore we are inspired by it."
His company, Xstream Ponds in Cashiers, North Carolina excels in the elements needed to design and build natural looking water features.
For more information, see: http://www.xstreamponds.com
Aug. 14 : Design a Showhouse Garden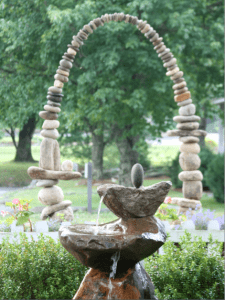 10 a.m., Thursday Aug. 14
How to transform the mundane into the magnificent? Join us and pitch in to help make The Cashiers Decorator Showhouse: Hilliard House into a garden gem. Just call Mary Palmer at 828-743-0307 to reserve your spot, and bring your gloves, a shovel and creative juices. Meet at 10 am at Dovecote. We will work on and off this weekend to be finished by Aug 19…3 sculptures, a waterfall and pretty flower garden. Come one come all!!!
August 21 ~ Mystery Guest Mixologist: Bitters Making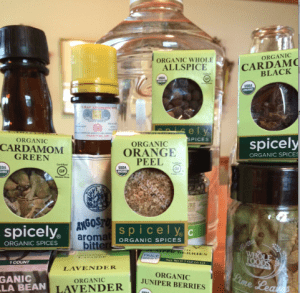 Aug. 21 (Thursday, 10 a.m.)   
Bitters making reaches far back into the Egyptian era. It is an alcoholic preparation is flavored with spices, roasted seeds or aromatic twigs that impart a bitter or bittersweet flavor. Once a patent medicine, this concoction may be added to lemonade, vodka, water and fancy cocktails. Angostura Bitters, popular on grocery store shelves, hail from Venezuela and were created in 1824 as a cure for sea sickness and other stomach maladies.
In our workshop, a variety of techniques will be used as our Mystery Guest Mixologist shares favorite recipes. Bring your small bottle to take home samples!
August 28 ~ Start your Vegetable Seeds for a Successful Fall Garden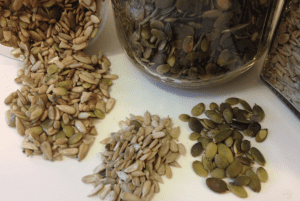 Aug. 28 Thursday, 10 a.m.  
Sept 6 ~ Recipes for YOUR Landscape Success
Saturday, Sept 6
Stay TUNED for our SPECIAL EVENT! Fall Garden Sizzle & Pow! Recipes for YOUR Landscape Success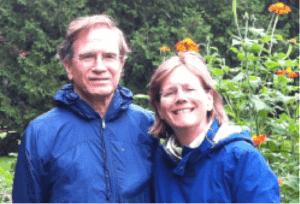 Why are we doing this lecture series? Hugh and I moved to Dovecote from Highcote in High Hampton after 15 years and spent 2013 renovating and building these new gardens. Now, we are celebrating!
For more information please contact: Dovecote Garden Porch or call 828-743-0307.