Summer Lecture Series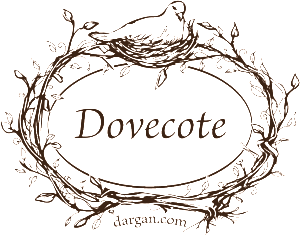 Thursdays at 10 in Dovecote's Garden
Unique in the Cashiers Highlands Plateau, this summer a series of informal soirees are being held regularly on Thursdays at 10 In Dovecote's Garden. This historic farmhouse, once nestled in the cornfields of Cashiers, is now ground zero for horticultural cognoscenti. The garden offices of landscape architects, Hugh and Mary Palmer Dargan, are located on McKinney Way (aka 35 Flash Point Lane) off Cashiers School Lane, 1 mile south of Crossroads on 107.
Enjoy a morning glass of herbal tea, stroll Dovecote's two public gardens and make friends with guest speakers. Watch for our weekly schedule of in The Highlander, Cashiers Chronicle and The Laurel.
If you have a house full of guests, would you enjoy "Miniature Gardens for all Ages",  or "Concocting Bitters for Summer Cocktails"? Have lunch at Cornucopia next door, then visit The Village Green and a garden center that afternoon.
How about big picture designs topics like "Making Flat Land on Mountain Slopes", "Dahlias for Mountain Gardens" or "Perennials for Your Bullet-Proof Border"? Native plant lovers, please join us for "Splendid Native Shrubs Trees to Know and Grow", plus "Mountain Hedges: Elegant Tapestries & Utilitarian Hideaways". We'll be field-tripping to local nurseries to uncover secret recipes.
For the home gardener, improve your home environment with "Permaculture for Mountain Landscapes", "Turbocharge your Soil with Compost & Compost Tea" or putter with us as we set seeds for "Vegetable Gardening with Vim and Vigor".
Most lectures are free; workshops materials have a small fee. For instance, join us for a pre-Mountains in Bloom gathering then migrate to Highlands wearing our new hats to a special champagne lecture.
Intrigued with sculpture and art in the garden? Carl Peverall places three of his atmospheric pieces at Dovecote this summer. Cashiers Plein Air Festival kicks off week of July 12. Watch early dawn artists catch the light at Dovecote and the surrounding village of cottages.
What makes the BEST of mountain gardens for you and Mother Nature? Come hear "My Magic Mix for Mountain Landscapes". Heal the earth, one garden at a time. Rest lightly on the land and always remember that form follows function…then beautify!
A Survey:
Create your free online surveys with SurveyMonkey , the world's leading questionnaire tool.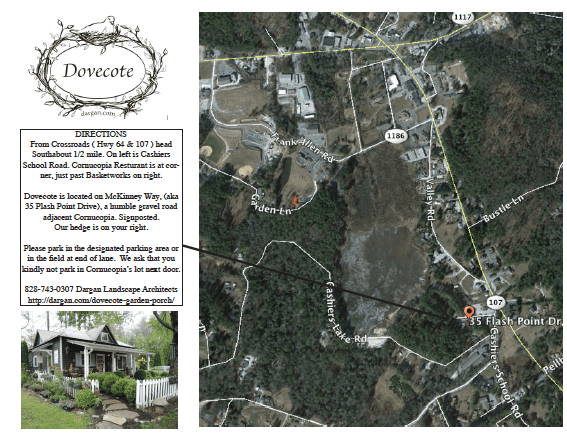 Cashiers map to Dovecote
(click on the map to download)
Schedule:
August 21 ~ Mystery Guest Mixologist: Bitters Making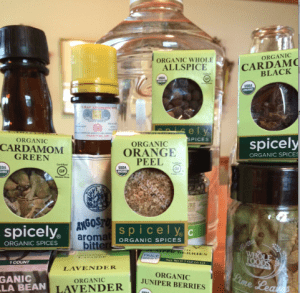 Aug. 21 (Thursday, 10 a.m.)   
Bitters making reaches far back into the Egyptian era. It is an alcoholic preparation is flavored with spices, roasted seeds or aromatic twigs that impart a bitter or bittersweet flavor. Once a patent medicine, this concoction may be added to lemonade, vodka, water and fancy cocktails. Angostura Bitters, popular on grocery store shelves, hail from Venezuela and were created in 1824 as a cure for sea sickness and other stomach maladies.
In our workshop, a variety of techniques will be used as our Mystery Guest Mixologist shares favorite recipes. The cost of the workshop is $25.

August 28 ~ Start your Vegetable Seeds for a Successful Fall Garden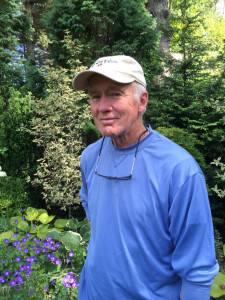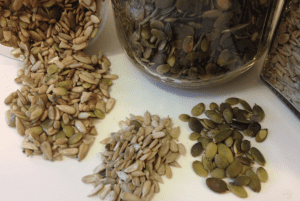 Aug. 28 Thursday, 10 a.m.  
Ever wondered when was the right time to begin your vegetables for fall planting? Well, it is August 28!
Our special guest horticulturist, John McCarley, (of McCarley Horticulturists fame), is going to get down and dirty with his explanation
of how and why we plant for the winter season.
Do you want to know what will grow, how to plant baby seeds, where to place your vegetable garden and more, you need to join this discussion. A field
trip to his nearby farmstead is included in the experience!
*If you do not know John McCarley, you are in for a treat!*
After more than a few decades, John McCarley knows his stuff. From apples to birch tree scions, and vermiculture to chickens…John has seen it all.
Plus, in the past 20 years, he has installed some of Dargan Landscape Architects best works at the Chattooga Club, High Hampton and Wade Hampton
in Cashiers, NC.
John knows what works for the Highlands Cashiers Plateau…right down to the dirt. He is an excellent designer for all shapes and sizes of properties
and fun to collaborate with.
So join us for our Season Finale of The Garden Talk at 10 am, Aug 28.
Buy hey, if it is about planting seeds, does the season really end??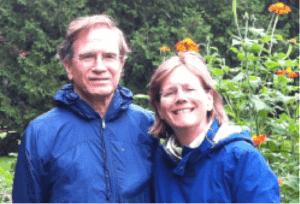 Why are we doing this lecture series? Hugh and I moved to Dovecote from Highcote in High Hampton after 15 years and spent 2013 renovating and building these new gardens. Now, we are celebrating!
For more information please contact: Dovecote Garden Porch or call 828-743-0307.