Dargan's Dovecote Porch & Gardens Presents
The Garden Talk Salon 2016!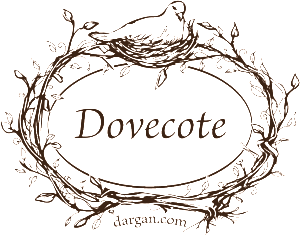 The Garden Talk Salon season's
Kickoff is May 27  
See the 2016 calendar below!

Summer Camp for Adults who Like to Garden
Why are we sharing this lecture series?  Our 2014 & 2015  summer seasons featured The Garden Talk Salon with 28 speakers on topics of interest to mountain chic lifestyles. It was waaaay too much fun. Hugh and I moved to Dovecote from Highcote in High Hampton after 16 years and spent 2013 renovating and building the Dovecote gardens.  Join us!
Be sure to subscribe to The Garden Talk Salon (see our signup form on the right) and you will be the first to learn of our upcoming events in Cashiers, NC.
Most importantly, you will receive the follow-up videos in case you cannot make the live performances….or for your success library.
Please Read On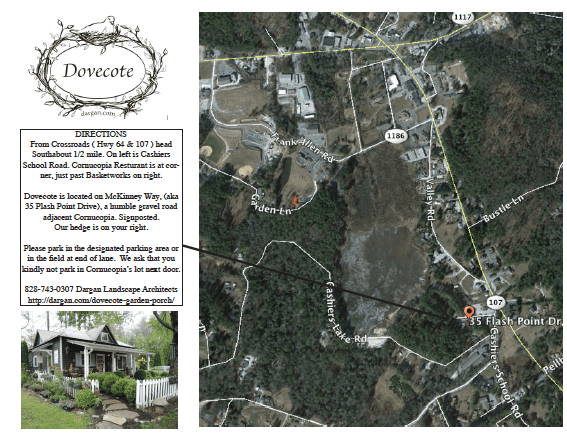 Cashiers map to Dovecote (click on map to download)
Our Garden Talk theme for 2016 is
Nature's Kitchen: Designing, Growing and Processing Edibles in your Landscape
Nature's Kitchen. Learn to identify and create delightful meals using the plants right under your feet! Discover wild and native plants that are high in nutritional value, beautiful, delicious and free!
 Mary Palmer Dargan, landscape architect, botanist & author, is turning the beautiful garden at Dovecote into a place to learn about edible plants. 
Enjoy 2 foraging feasts ( June 10-12 in the Smoky Mountains) and August 30 at The Village Green with Ila Hatter. Learn about edible plants on walks to pluck choice specimens. Come cook, slice or dice at our summer workshops! 
( CLICK on FLYER TO DOWNLOAD!)
_________________________________________________
See our Topics  here:
May 27 Nature's Kitchen: Jeff Zahner's Edibles in the Garden : Kickoff lecture with introductory overview plus special tea!
JUNE ( all lectures begin at 10 am)
JUNE 3  Nature's Kitchen : Wild Salads & Greens Recipes for Health. Dovecote.
June 10-12  Wet & Wild: Foraging Workshop in THE SMOKY MOUNTAINS
A special event. Camping and Workshops.
JUNE 14 Gardens Study: CLE at Dovecote. (register thru Center for Lifelong Enhancement, Highlands)
JUNE 17 Nature's Beauties : Mystery Speaker. Dovecote.
JUNE 24 Nature's Kitchen: Woodland Drinks & Cordials. Dovecote.
JULY (all lectures are at 10 am unless otherwise noted!) 
JULY 1 Friday 4-6 pm
Contemporary Stonehenge! Nature's Sculpture : Carl Peverall Grand Sculpture Opening. Dovecote. contact mpdargan@dargan.com
July 2 Saturday 9-10:30 am Enjoy a morning cup of coffee with Carl as he curates the sculpture exhibition. contact mpdargan@dargan.com
JULY 8 Nature's Kitchen: Creating Main Dishes with Mystery Chef! Dovecote.
SKIP JULY 15 due to Plein Air Festival in Cashiers
July 25 Miniature Gardening for Children of any Age. CLE at DOVECOTE (register thru Center for Lifelong Enhancement, Highlands)
July 29 Nature's Kitchen: Making Sweet Things. Dovecote.
August ( all lectures are at 10 am)
August 5 Nature's Beauties: Ferns with Edmund Taylor & Hugh Dargan. Dovecote.
August 12-28 Cashiers Historical Society
Showhouse. Dovecote Porch & Showhouse shop!
August 19 Nature's Kitchen : Wine Making at Dovecote.
August Tuesday 23 Cashiers Showhouse :Bitters Workshop at Showhouse
August 26 Nature's Kitchen : Mystery Mushrooms at Dovecote
August 30  Foraging Feast – Mother Nature's Secret Garden with Ila Hatter at the Village Green Dargan Landscape Architects sponsor note: Tuesday 5:30 pm with DINNER! contact mpdargan@dargan.com
_________________________________________________
Don't miss Dovecote's sculpture exhibition opening reception July 1 
Watch below and imagine yourself in our Dovecote courtyard. Join us on this virtual tour!
Meet Carl and Ethan Peverall, the designers of  our atmospheric stone sculpture. The Peverall father & son team hail from the Mt Mitchell area are no stranger to the Highlands Cashiers plateau. Their large sculptures from natural stone with a variety of shapes and exhibit great power.
Check out this video on Carl's beautiful fountain called Water Spirit.