Dargan's Dovecote Porch & Gardens Presents
The Garden Talk Salon 2015!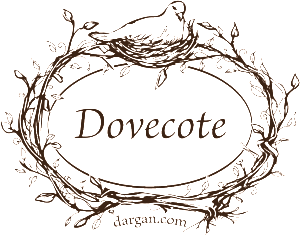 The Garden Talk Salon began its season early this year on April 4 !
Why are we doing this lecture series? Our 2014  summer season featured The Garden Talk Salon with 14 speakers on topics of interest to mountain chic lifestyles and it was waaaay too much fun. Hugh and I moved to Dovecote from Highcote in High Hampton after 15 years and spent 2013 renovating and building these new gardens.  Join us!
Be sure to subscribe to The Garden Talk Salon (see our signup form on the right) and you will be the first to learn of our upcoming events in Cashiers, NC.
Most importantly, you will receive the follow-up videos in case you cannot make the live performances….or for your success library!
Please Read On !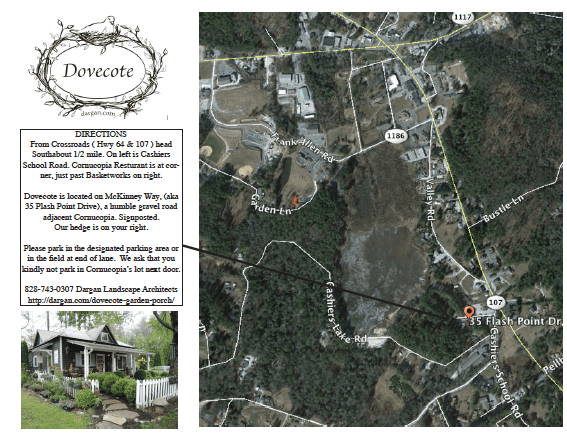 Cashiers map to Dovecote
(click on the map to download)
Watch below and imagine yourself in our Dovecote courtyard. Join us on this virtual tour!
Don't miss Dovecote's sculpture exhibition opening reception September 4!

 Meet Carl Peverall, the designer of  our atmospheric stone sculpture. Carl hails from the Mt Mitchell area is no stranger to the Highlands Cashiers plateau. His large sculptures from natural stone with a variety of shapes and exhibit great power.
Check out this video on Carl's beautiful fountain called Water Spirit.
Our Garden Talk theme for August is " Fit Your Garden to Your Lifestyle Like a Glove"
August 7: John McCarley: Organic Gardening  & Fall Seed Workshop
Befuddled on how to combine beauty and practicality in vegetable gardening? Get your your fall garden ready with conveniently grown, healthy food to nourish your family.John McCarley, legendary organic garden guru and lifelong horticulturist, will open the garden gate to solve your horticultural dilemmas on Friday, August 7 at 10 am.  FREE.
August 8-14 :  Fit Your Garden to Your Lifestyle: A Design Event!
Can your garden fit your lifestyle like a glove? Join us on Friday, August 14 for a 3hour garden study workshop to merge your Land & LifeScape. This landscape design workshop includes garden study to private estates.
Improve your home grounds and environment to include beautiful seating areas and sheltered courtyard environments to promote bird activity. Organize your property to include attractive raised beds for healthy produce and easy to use compost areas. Instructors Hugh and Mary Palmer Dargan, registered landscape architects have over 40 years of experience designing award-winning , beautiful home environments from Charleston to Cashiers. The event is held at Dovecote in Cashiers at their design studio, trial gardens and is The Garden Talk Salon headquarters. No experience necessary, just a desire to tailor your garden to meet your specific needs. Cost is $150 and includes lunch. Friday, August 14 from 10-1 pm. Limited to 12.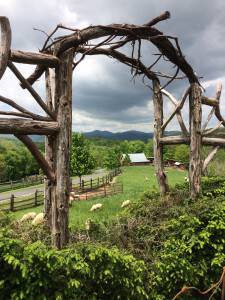 August 21: Mary Palmer Dargan: Hydrosols & Floral Waters Workshop
Interested in making bitters, befuddled by hydrosols and floral waters? On Friday, August 21 for a workshop on bitters making and all things related to extracting and bottling special flavorings. 10 am at Dovecote. Cost is $25 and includes a bottle of hand-crafted bitters. Friday at 10 am.
Contact Mary Palmer Dargan to confirm your space at 828-743-0307or mpdargan@dargan.com. Checks for the event will be accepted at Dovecote.
August 28: Bob Dews: Magical Waterfall Study
Our grand finale for the summer season is Bob Dews' workshop on waterfall, stream and pond design. Back by popular demand, Bob is highly praised for his beautiful, natural water environments. Bring water into your landscape and watch the birds, butterflies, frogs, fish and wildlife respond. Enjoy the sound of music water provides to sooth your soul. Includes field trip. 10 am Friday, August 28. Free.
To register for events: Mpdargan@dargan.com, 828-743-0307 or dargan.com/dovecote-events for further details. Dovecote is located at 35 Flash Point Drive ( McKinney Way) next to Cornucopia Restaurant off hwy 107S in Cashiers, NC.