Dargan Landscape Architects/Dovecote Proudly Presents
The Garden Talk Salon 2017!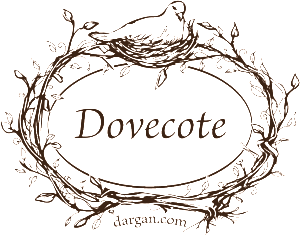 Celebrating our 5th season of lectures & demonstrations!
note: usually 10 am Fridays.
Contemporary Stonehenge is open 9-6 daily till Halloween
35 Flash Point Drive, Cashiers. 828-743-0307
—————————————————–
Dovecote Celebrates the

2017 Summer Season: please

join us for our 3 GRAND FINALE events
We started on May 25 with Tricky Places : Stewarding Challenging Mountain Landscapes, the title of our next design book. That afternoon reception was held at the Grand Opening of Carl Peverall's Fabulous Contemporary Stonehenge – 4 sculptures immediately found a new home. Workshops featuring heirloom plants with Summer Garden Color, Vegetables & Edible Flowers preceded The Heritage Gardener Symposium (chaired by Mary Palmer Dargan) at Cashiers Heritage Society's Zachary-Tolbert House on June 21. Summer Shrubs & Cocktails in the Garden (with your DOG) followed with fun FIDOS!
In July, our Summer Cocktails & Beverages Workshops featured Elderflower cordial making with an explosive impact! Next, the biannual Joy Garden Tour, which provides greatly needed funds for The Village Green, showcased two Dargan Gardens : The Valenta Garden in Wade Hampton & The Hayes Fairchild Memorial Garden in the heart of The Village Green.
Then, the WOW…Shana Fisher Huggins, landscape architect and floral designer, presented a floral design workshop…standing room only… everyone went home with an arrangement of their own design.
Little Henry had another leg operation (his second this summer), so we postponed his Fido cocktail event 'till august 24…
Our workshops follow the season, so Bottle-Up & GO! was the mantra for the first two Friday events in
August. Pickles and Plum preserves (from heritage stock) were literally pressed into service…folks, this is a craft AND art form! The second week we MADE BLACKBERRY WINE…and pickled.
COMING UP NEXT…
Well, the Eclipse Fest in Cashiers… will find us at 2:36pm at Dovecote on the Dock… on Cashiers Lake and dancing on the Green
August 25 Cast Iron Cookery 10-noon
Enjoy al fresco experts, Hugh & Mary Palmer Dargan, as they 'lay on' a final luncheon feast for the Garden Talk Salon. Using a Cook Stand Table to prepare pies in cast iron & a tripod campaign-cooker to make 'kilt greens' and grape leaf- wrapped trout, this workshop is not to be missed.
Cost $25 for supplies WHICH INCLUDES LUNCH !!!
NOTE: WE ARE ALMOST SOLD OUT
August 25, 5-6 PM Cocktails in the Garden with Fido!
Yes, Little Henry invites his canine friends – and their owners- for a special visit. Afterwards we will matriculate over to the Village Green to enjoy a dance band. FREE.
Coming in October 2017….Carl & Ethan Peverall Return for the GREAT UNVEILING!!




Stay Tuned! A party and tour are proposed.
---
GTS Schedule 2017 Overview
(see previous 2017 GTS events at end)
New this year : Cocktails in the Garden from 5-6 on selected Fridays (prior to Groovin' on the Green) …
Pets always welcome. Being a chair if you wish to go to Groovin' with us.
We kicked-off the Season with a lecture & reception!
On May 25 Mary Palmer Dargan shared the tricks of her trade at the Albert Carlton Library in Cashiers, NC. Tricky Places refers to landscapes that are fragile, steep, complicated – but never boring! Do you have problems with your Parking, Terraces, Outdoor Dining & Pavilions, Captured Views, Steps & Walkways, Art & Sculpture, Seating Areas, Water & Basins, Gardens, FirePits, Service Areas, Pots and Planters, Parties or Lighting? Drone imagery of amazing mountain projects was included
AUGUST 2017 Garden Talk Salon
Contemporary Stonehenge Opens!
Carl & Ethan Peverall Returned! Internationally renowned father & son sculptors, Carl & Ethan Peverall, create atmospheric stone works of art. Open 9a-6p, the collection is best viewed in morning & evening light.
Please view the playlist of videos from this event!
Peverall Statues are for sale. Please click image for price list.
OUR THEME THIS SUMMER : The Heirloom Gardener: Design a Garden,
Grow & Process Plants that Your Forefathers Thrived Upon!
June 2017 :
Heirloom Gardener , using native and heritage plant materials, garden nutrition.
EVENT: June 21 Cashiers Historical Society's 2017 Jan Wyatt Symposium (Mary palmer is chair), very limited luncheon seats.
New Cocktails in the Garden from 5-6 pm, then mosey over to Groovin' on the Green for the fabulous weekly GCAMA concert at 6:30.
July 2017 :
Wildcrafting & Cooking with Heirloom Plants demonstrations.
EVENT: Joy Garden Tour 2017 : July 12-16. Several of our gardens are featured; Dovecote moves to booth at The Village Green pavilion July 12-16.
Shana Fisher Huggins is an extremely talented, Lake Toxaway native, known for her amazing bridal work. A landscape architect by training, Shana joins the Dargan Landscape Architect design team off-season to hone her skills. Her shop, The Blossom Jar, in Lake Toxaway is not to be missed and is managed by her mother, Barbara Fisher.
The Blossom Jar.
Shana will conduct a floral workshop designed to inspire you! A vase is provided as well as flowers. 2 hours. $35. Preregister by calling 828-743-0307. Very limited seating.
POSTPONED due to Little Henry's Knee Surgery…TWO SPECIAL DOG EVENTS!
POSTPONED Friday, July 28 10 am Make Homemade Dog Biscuits & Flea Repellent. Pets welcome.
POSTPONED Friday July 28! Cocktails in the Garden with your DOG.

A Party for Pets. 5-6. Meet Henry (our pup-pup) then mosey over to Groovin' on the Green for the music.
POSTPONED July 28
We shall announce more fabulous authors, experts and notable speakers coming to our wonderful program!
Cheers,

Hugh & Mary Palmer Dargan
—————————————————————————————
Last Year's 2016 calendar is below

Summer Camp for Adults who Like to Garden
Why are we sharing this lecture series? Our four 2013-2016 summer seasons featured The Garden Talk Salon with 28 speakers on topics of interest to mountain chic lifestyles. It was waaaay too much fun. Hugh and I moved to Dovecote from Highcote in High Hampton after 16 years and spent 2013 renovating and building the Dovecote gardens. Join us for a lecture!
Be sure to subscribe to The Garden Talk Salon (see our signup form on the right) and you will be the first to learn of our upcoming events in Cashiers, NC.
Most importantly, you will receive the follow-up videos in case you cannot make the live performances….or for your success library.
Please Read On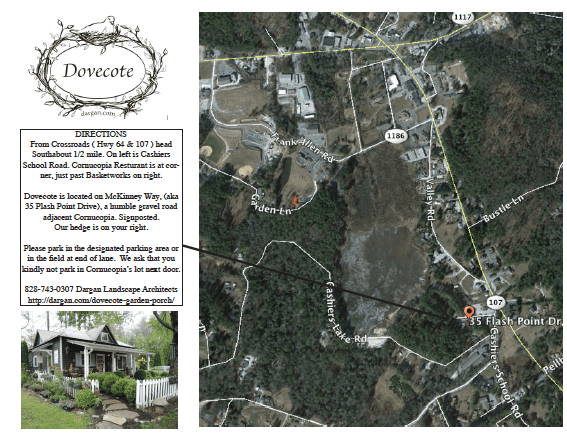 Cashiers map to Dovecote (click on map to download)
Our Garden Talk theme for 2016 was
Nature's Kitchen: Designing, Growing and Processing Edibles in your Landscape
Nature's Kitchen. Learn to identify and create delightful meals using the plants right under your feet! Discover wild and native plants that are high in nutritional value, beautiful, delicious and free!
Mary Palmer Dargan, landscape architect, botanist & author, is turning the beautiful garden at Dovecote into a place to learn about edible plants.
Enjoy 2 foraging feasts ( June 10-12 in the Smoky Mountains) and August 30 at The Village Green with Ila Hatter. Learn about edible plants on walks to pluck choice specimens. Come cook, slice or dice at our summer workshops!
( CLICK on FLYER TO DOWNLOAD!)
See our Topics here:
May 27 Nature's Kitchen: Jeff Zahner's Edibles in the Garden : Kickoff lecture with introductory overview plus special tea!
JUNE ( all lectures begin at 10 am)
JUNE 3 Nature's Kitchen : Wild Salads & Greens Recipes for Health. Dovecote.
June 10-12 Wet & Wild: Foraging Workshop in THE SMOKY MOUNTAINS
A special event. Camping and Workshops.
JUNE 14 Gardens Study: CLE at Dovecote. (register thru Center for Lifelong Enhancement, Highlands)
JUNE 17 Nature's Beauties : Mystery Speaker. Dovecote.
JUNE 24 Nature's Kitchen: Woodland Drinks & Cordials. Dovecote.
JULY (all lectures are at 10 am unless otherwise noted!)
JULY 1 Friday 4-6 pm
Contemporary Stonehenge! Nature's Sculpture : Carl Peverall Grand Sculpture Opening. Dovecote. contact mpdargan@dargan.com
July 2 Saturday 9-10:30 am Enjoy a morning cup of coffee with Carl as he curates the sculpture exhibition. contact mpdargan@dargan.com
JULY 8 Nature's Kitchen: Creating Main Dishes with Mystery Chef! Dovecote.
SKIP JULY 15 due to Plein Air Festival in Cashiers
July 25 Miniature Gardening for Children of any Age. CLE at DOVECOTE (register thru Center for Lifelong Enhancement, Highlands)
July 29 Nature's Kitchen: Making Sweet Things. Dovecote.
August ( all lectures are at 10 am)
August 5 Nature's Beauties: Ferns with Edmund Taylor & Hugh Dargan. Dovecote.
August 12-28 Cashiers Historical Society
Showhouse. Dovecote Porch & Showhouse shop!
August 19 Nature's Kitchen : Wine Making at Dovecote.
August Tuesday 23 Cashiers Showhouse :Bitters Workshop at Showhouse
August 26 Nature's Kitchen : Mystery Mushrooms at Dovecote
August 30 Foraging Feast – Mother Nature's Secret Garden with Ila Hatter at the Village Green Dargan Landscape Architects sponsor note: Tuesday 5:30 pm with DINNER! contact mpdargan@dargan.com
_________________________________________________
Don't miss Dovecote's Grand Opening Sculpture Opening Reception May 25, 2017
Watch below and imagine yourself in our Dovecote courtyard. Join us on this virtual tour!
Meet Carl and Ethan Peverall, the designers of our atmospheric stone sculpture. The Peverall father & son team hail from the Mt Mitchell area are no stranger to the Highlands Cashiers plateau. Their large sculptures from natural stone with a variety of shapes and exhibit great power.
Check out this video on Carl's beautiful fountain called Water Spirit.